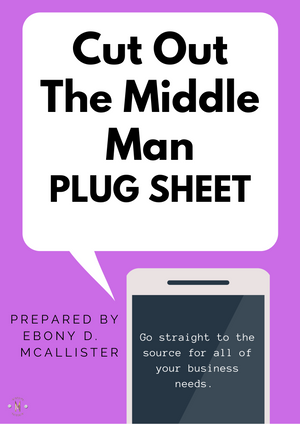 Cut Out The Middle Man "Plug Sheet"
Sale price Price $8.88 Regular price $111.00
I've spent thousands of dollars and countless hours traveling abroad to China to source products and services directly from the source. I have typed up all of my contacts that I have personally met, talked to, did business with, and visited their locations in an easy to read format. 
***NEW SEA MOSS VENDOR ADDED*** 
You will receive a guide to using your plug sheet first. The next email will include the actual plug sheet with the vendor information.  
The plug sheet is a spreadsheet divided into the following categories::
Hair vendors
Manicuring & eyelash vendors
Cosmetics & skincare vendors
Packaging & shipping vendors
Clothing & shoe vendors
Miscellaneous vendors 
If you are looking to expand or scale your business by working directly with the source, this plug sheet is what you have been looking for! 
Purchase this sheet and build lasting connections and grow your business by cutting the middle man out. 
This sheet is saved in a PDF format, and you will be able to contact them directly from the sheet by clicking the links and websites. 
Disclaimer: you must have your own access to the applications to contact these manufacturers. This is a Chinese vendor list, so be sure to use translation apps to contact and communicate with these vendors.