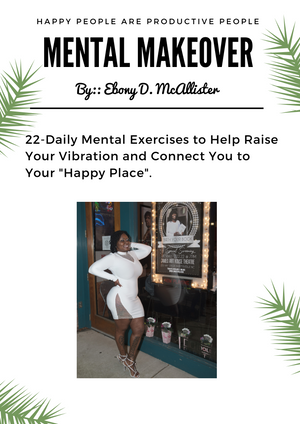 22-Day Mental Makeover Challenge
Sale price Price $11.11 Regular price $111.00
A body is completely dead without the head. That's why the enemy attacks our minds first!
Giving yourself a mental makeover is all about being aware and being intentional about making a change.
If you are not consciously managing your thinking and emotions, it can be ­detrimental to health and wellbeing.
In this 22-day "Mental Makeover", I will teach you how to think clearly without negative thoughts holding you back. It is a three-week program designed to harness your personal power and help you become the best version of yourself.
How does the 22-Day Mental Makeover work?
Starting on the day of your enrollment, you'll get daily mini video lessons and mental exercises to help raise your vibration, as well as a workbook to keep you motivated and on track with what to expect in the upcoming days.
When it comes to self-care and self-love, there's no right or wrong way to do it. It's always OK to change things up if you decide one self-care approach isn't serving you. That's why you will have 22 days of new ideas and approaches to try to see what best suits you and your energy!
What Will You Learn?
Here's a few things you will learn over the next 22 days when you join today:
Week 1: Introspection

Learn how to connect with your intuition and trust the voice of your higher self.

 

Week 2: Imagination

Learn how to tap into your child like imagination. There is power in your preference.

 

Week 3: Interaction

Learn how to interact and maneuver in the world around you. Find the strength to move past any fears of speaking up, going out, or engaging with new people.

 
You will learn how to use your time with the intent each day to improve yourself by applying new introspective ideas to channel your energy into. It's all about finding ways to feel good "now". This is a win-win mental makeover.