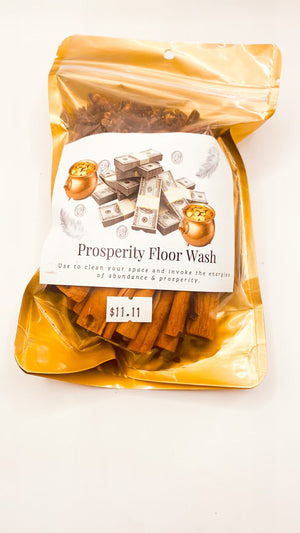 'money minx' Prosperity Floor Wash
Sale price Price $11.11 Regular price $11.11
Draw money and prosperity into your home, office, business or anywhere you wish with a natural herbal floor wash. Simply boil this mix and add the hot water in your mop bucket.
Your floors contain a lot of trapped energy, emotions, and vibes that you and your guests carry around all day. It is important to regularly clean your floors and rid your space of any pent up energies stuck in your floors, especially if you walk barefoot in your home. 
This floor wash will draw in abundance and prosperity, while cleansing the energy of your home to dispel negativity and ill vibes. 
There are no harsh chemicals or detergents in our blend so it pretty much can be applied to anything you choose. Did I mention that your home will smell amazing? Go ahead and order more than one because you will definitely be back for more!
Priced at $11.11, boil this magical blend, add the water to your mop bucket, and make a wish.✨💫