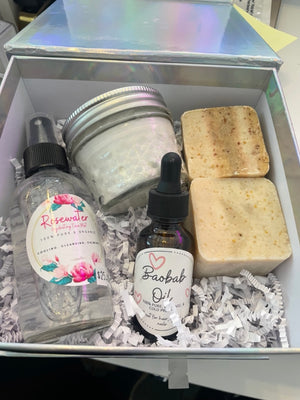 Glass Skin Kit
Sale price Price $100.00 Regular price
Glass Skin Kit
This glass skin routine is less focused on the number of steps and more on hydration and the appearance of overall skin health. 
This method is created using natural, organic ingredients that deliver as much moisture as possible. It may require a few extra skincare steps, but those dewey skin  results will be so worth it!
Included in the kit:
Raw sea moss [to prepare sea moss gel]
Rose shea butter
Rose water
Baobab Oil
Sea moss soap
Turmeric soap
Baobab Oil
Baobab oil is the best oil to add to your skincare routine. 
Extracted from the wild-growing African baobab  'Tree of Life', baobab oil is nutritious food for your skin. Our baobab oil is 100% pure and organic from Tanzania, Africa. 
It is also a skin-protecting and nourishing oil, ideal for massage (body and scalp) or as a moisturizer. Softens and soothes your skin. 
Use baobab oil for your hair, skin, or nails. 
Benefits of baobab oil:
Excellent skin moisturizer
Softens skin
Improves skin texture
Improves skin elasticity
Helps to heal skin and wounds faster
Rejuvenates skin cells
Nourishes hair follicles and stimulates hair growth
Prevents dandruff
Ingredients: 100% baobab oil
Rose Water Facial Mist
Our rose water instantly hydrates and softens skin. This super-fine mist is perfect to spritz on clean skin, keeping your skin dewy and fresh throughout the day.

Here are four benefits of rose water on the skin: 
It balances skin's natural oils.
It helps to naturally hydrate.

 

It has antioxidant properties that nourish and protect the skin.

 

It smells like roses!
Ingredients: Rose water and rose oil. 
Rose Shea Butter Facial Moisturizing Cream
The Rose Shea Butter Moisturizing Cream is a PERFECT daily facial cream for any skin type in need of natural moisture! 
Rose Oil is perfect for the face and the added moisturizers leave your skin feeling silky smooth. 

This is a non-greasy moisturizer that can be used on any skin type. Use it daily after washing your face. 
 Ingredients: Shea Butter, Coconut Oil, Baobab oil, and rose oil.
Turmeric and Sea Moss Soaps
These soaps are great for acne and blemishes because turmeric acts a natural anti-bacterial agent and helps provide Vitamin E to moisturize, brighten, and revitalize your skin cells and further helps to combat acne and restore your skin to its natural healthy glow. 
Ingredients: coconut oil, baking soda, distilled water, sea moss powder, and turmeric powder.
Directions:

 
Cleanse: Use our sea moss soap to cleanse your skin and remove any oils and impurities. Wet the soap and lather well in your clean hands, then apply to your face.

 

Exfoliate: Use the turmeric soap to exfoliate your skin by applying directly to your face. Exfoliation helps to remove excess dead skin cells and removes blackheads on the skin.

                             

**Exfoliate 2-3 times a week, not daily, to avoid skin irritations.

 

Spritz. Use our rose water toner. This help reset the pH of the skin and allow the next steps in your routine to absorb better into the skin. Toners with alcohol or witch hazel can dry out your skin, not ours!
Use our baobab face oil. Apply 3-5 drops directly to your skin or massage into hands and massage into your face. This oil is lightweight but loaded with antioxidants, which will protect the skin from free radicals that eventually result in signs of aging.

 

It is light and absorbs quickly on your skin.
Layer on our rose shea butter moisturizer. This shea butter will give you an instant burst of hydration, leaving skin looking smooth and supple.

 
**Twice a week, prepare a sea moss gel face mask and apply to your face after step 1 for flawless skin. 
Total kit value: $121.26