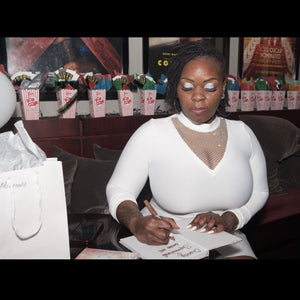 1-on-1 Virtual VIP Day
Sale price Price $3,333.00 Regular price $5,555.00
Investing in yourself means putting in the time, money, and energy into improving your current and future life.
This 1-on-1 Virtual VIP Day is perfect for individuals who want personal guidance in making positive life changes that lead to happiness. I will offer direct guidance with aspiring authors, entrepreneurs, or intuitive ones that would like to strengthen their connection to the divine to invoke positive change.
For this virtual VIP day, you will spend an entire day with me virtually, from sunrise to sunset. 
This Virtual VIP day will be a total of eight hours of personal, one-on-one guidance, broken up into two 60-minute yoga and meditation sessions and two, three-hour personal sessions. 
My sole focus of the day will be you and your needs.
This Virtual VIP day includes:
*a morning meditation session
*sunrise yoga flow
*lunch and dinner provided [in areas available]
*3-hour morning planning session via Zoom
*3-hour evening implementation session via Zoom
*an evening journaling session
*evening yin yoga session
Your two personal three-hour sessions are perfectly tailored to meet your needs. 
You set the agenda. You choose the topics. You have an entire day dedicated solely to you and your needs. 
Each session will be conducted via Zoom. 
In this virtual VIP day, you are encouraged, inspired, intuitively guided and taught how to improve your own ability to access your inner wisdom. Rest assured that I have no opinion, bias, or judgment about you. 
You can discuss with me whatever you like, nothing is off limits. 
You can pick my brain on whichever subject that interests you. 
You can also discuss your personal challenges and situations as well. 
Sessions can also include coaching and consulting on several areas. This includes, but is not limited to:
health
healing
life purpose
book writing
course creation
tapping into your intuition
manifestation
angels
starting and growing your YouTube channel
travel tips for traveling abroad
solo travel
growing through grief
personal development
yoga, meditation, or journaling
spiritual development of all kinds
Your questions and concerns will drive the sessions.
What you can expect from me:
To provide honest, positive, and loving energy to guide you
To introduce you to new practices, habits, and lifestyle changes 
To be non-judgmental
To empower you to overcome any challenges
To help you to win!
What I expect from you:
To be on time for your sessions
To be respectful
To be honest and share your truth with me
To keep an open mind to all possibilities
To try new things and step outside of your comfort zone
Expect miracles
You will leave your Virtual VIP day with a feeling of lightness and clarity.
My intention is to help to provide you with guidance in alignment with your absolute highest good to assist you with your situation and healing!
*Once booked, you will receive an email with your onboarding information and the details to schedule your Virtual VIP day.  
Disclaimer:
I, Ebony McAllister, provide services for guidance only. 
The information you receive from any  session with me is not intended, implied, nor should it be regarded as legal, financial, business, psychological or medical advice, fact, diagnosis or treatment and is subject to your own personal interpretation, judgment and free will choice.